Hydraulic Fluid
The performance, reliability and length of service that you achieve from your hydraulic equipment is directly related to the quality and maintenance of the fluid upon which it operates. The initial choice of oil and the subsequent care of it, is possibly the least understood and most often ignored maintenance area of many manufacturing facilities.
As a system operates it is a normal consequence that contaminants are generated and the oil will deteriorate. Unless this process is addressed then you are courting disaster in the form of downtime and expensive breakdown repairs.
Fluidforce Recommends.
As there are no standards regarding hydraulic oil bases or additives, and the information available from manufacturers regarding viscosity and additives only establishes that the product meets a minimum standard, it is difficult to compare the products.
At Fluidforce, when the company was created, we chose to associate ourselves with Fuchs as our prefered supplier. There were a number of considerations, but primarily we decided that we could trust the product, it has a solid international reputation and the technical support that was available was comensurate with our perceived requirements.
As a stock product we keep Renolin B in 46 and 68 grades. These products are carried in 205 and 20 litre containers. All other products are generally available to us on a next day delivery basis.
Renolin B.
The Renolin B series of oils are based on highly ageing resistant solvent raffinates and fulfill, in many cases even surpass, the minimum requirements on HLP hydraulic oil. They are high-quality HM hydraulic oils of excellent oxidation stability, ageing resistance, corrosion protection, protection against wear, low foaming tendency and demulsification characteristics even in extreme conditions.
Recommend for hydraulic and bearing system of precision machine tools, industrial equipment, and mobile hydraulic systems.
Renolin B HVI
The HVI series offers excellent viscosity - temperature behavior and low temperature characteristics besides all the properties of HM hydraulic oil.
Recommended for hydraulic systems of equipment operating in low temperature, outdoors and other wide temperature range environment.
Please click on the appropriate link to view pdf documents relating to complete Product Information on Renolin B and Renolin B HVI.
Fluid Maintenance
Starting with a good product is the first step - maintaining that product is the key to ensuring that you achieve the best possible return on your investment.
The hydraulic oil not only transferes force, but must also seal, cool and lubricate. The various requirements of the fluid have to be maintained throughout its service life and must also help in combatting the formation of undesirable reaction by-products.
The most common contaminants are entrapped air and water, along with particles of metal, rubber and dirt.
Fluid deterioration is a process of additive breakdown. The additives in the oil from new are subject to change due to chemical interaction and physical breakdown and as they alter then so does the performance characteristics of the fluid. High temperature operation (in excess of 65oC) causes rapid damage to the fluid and often, the simple act of replenishing the system with fluid, is the major cause of solid particle ingress.
Fluid Sampling.
Regular monitoring of the fluid is the best way to ensure that you will get the optimum life from your system. This process provides accurate viscosity readings and details specific contaminants such as water and foreign matter. It also provides information on additives that are present.
At Fluidforce we work in partnership with Oil Test Pty. Ltd. Their laboratory is well equiped and they are a specialist company that is able to provide us with the services that we require. The turn around time on a sample is typically 48 hours from sampling and the information that is available from their report enables sudden movement in levels or gradual trends to be detected and pro-active interaction can be initiated to correct problems.
Should you have to replace the fluid in your system, we also offer a no charge service to dispose of the used oil by way of an EPA registered contractor.
Below is a typical Oil Test Oil Analysis Report.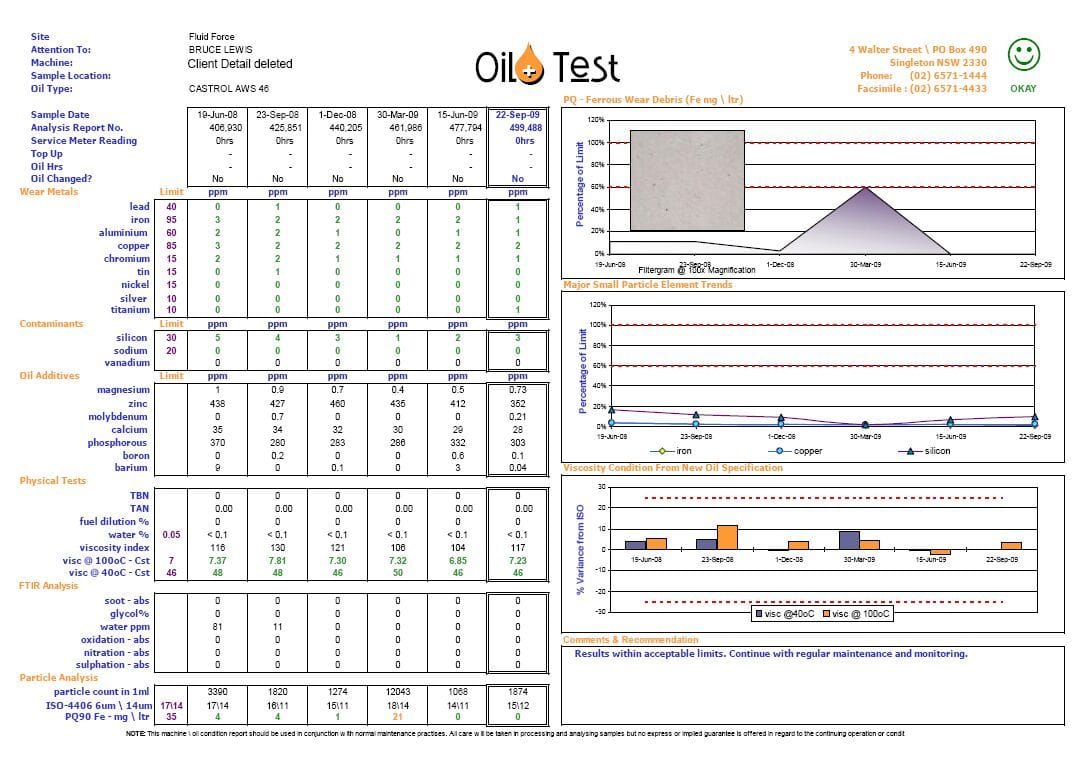 This report details the current staus and the history of a machine that we service on a regular basis.
Note that the results from the most recent test and the five previous tests are detailed.
In the example above there was no cause for concern until the results of the test taken on 30th March 09 revealed a dramatic increase in the PQ analysis and the ISO 4406 readings increased. as a consequence we located a cylinder that was slowly destroying itself internally.
Whilst the cost of the cylinder repair was significant - the fact that it was detected and repaired prior to total failure, and that it was able to be done with a small amount of planning around production requirements, meant that the financial and production impost on the client was minimised.
There are two pdf documents that you can download that may assist further on this subject.
Capability Statement Oil Test capabilities and Report explanation.
Fluid Condition Goals Setting and attaining oil condition levels appropriate to your equipment.