Valve Actuator Hydraulic Systems
One of our most recent projects was to design and manufacture a hydraulic system suitable for controlling two Hydraulic Valve Actuators.
Our client was contracted to supply this equipment for the Rio Tuba Nickel Mine Project in the Phillipines. Our people have previously had experience with similar systems and were familiar with the design and manufacturing concepts employed on this project.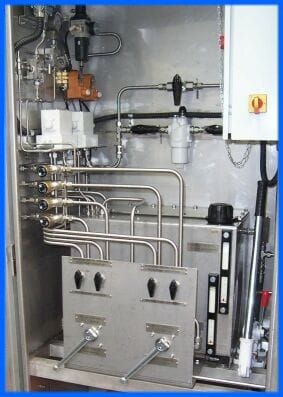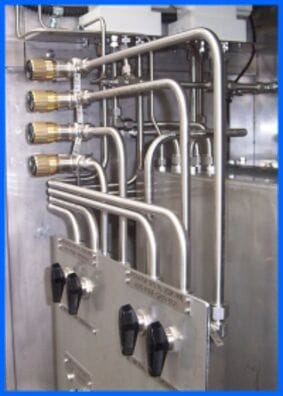 The system comprises a Cabinet which houses the hydraulic system and electrical controls with a seperate Accumulator Stand which contains 4 x 50 Litre Bladder Accumulators.
The equipment is designed to provide a flow suitable for operating the Valve Actuators at a pre-determined rate by means of Accumulator discharge and then to re-charge the Accumulators and shut down. The pressure stored in the system is monitored by a Pressure Switch and the pump/motor set cuts in at a preset falling pressure to continuously maintain the system in an operational state.
Although not designed as an ESD system, the capacity of oil storage is such that it would permit valve actuation even if there was a malfunction of the electric motor or a pump failure.
There is provision for manual operation by means of a Hand Pump for maintenance purposes.
The system is supplied fully tested and certified.
All plumbing is in 316 Stainless Steel and Swagelok fittings are used throughout.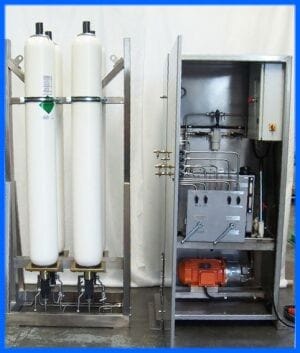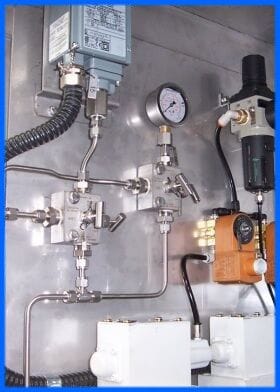 The system is supplied fully tested and certified and is supplied with:
Complete Schematic and Layout Drawings.
Commissioning and Operating Instructions.
Function Descriptions of all system components.
Maintenance Instructions.
Third Party witness and Performance Testing available should it be required.